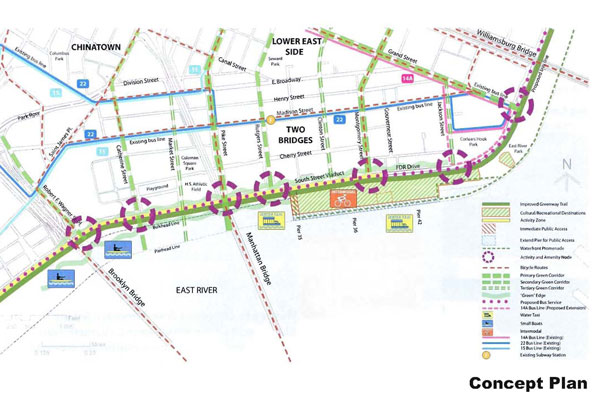 East River Greenway Community Design Charrette and Report
Lower East Side, New York, NY
Client: Manhattan Community Board 3 with the National Park Service Rivers and Trails Program
Denisha Williams, Project Manager, Community Meeting Facilitator, and Report Author for City College Architectural Center, 2004
Over the past decade and a half, New York City has dramatically transformed many of its post-industrial waterfronts into parks and greenways. In keeping with its mission to increase the level of inclusion in the planning process in traditionally underserved communities, City College Architectural Center (CCAC) was commissioned by Community Board 3's Waterfront Task Force, with assistance from the National Park Service Rivers and Trails Program, to conduct a fast-track public design charrette and report for the East River Waterfront.
The intent of the community design process was to enable the voices and visions of Lower East Side residents to be recorded and conveyed to the city and its consultants for inclusion in the East River Waterfront Study. On behalf of CCAC, Project Manager Denisha Williams served as presenter, lead facilitator, and report author, leading a team of CCAC staff members, student interns, and volunteer professionals. Planners, architects, and landscape architects served as facilitators for small brainstorming groups, working with residents to illustrate their program and design ideas. Community members were actively involved in sketching, making notes, and presenting recommendations in the pin-up. The final report incorporates both written comments and a sampling of plans and sketches from the charrette.
Approximately 40-50 participants per night worked together to brainstorm, record, and share ideas. In follow-up sessions, recommendations were prioritized by the Task Force, presented to Community Board 3, endorsed by the full Board, and forwarded to the city and its consultant team for consideration in the East River Waterfront Study. Many of the visions that emerged from the charrette made their way into the study, prepared by the consultant team of Richard Rogers Partnership and SHoP Architects with Ken Smith Landscape Architect, and have begun to be implemented as part of major public space investments along the East River.