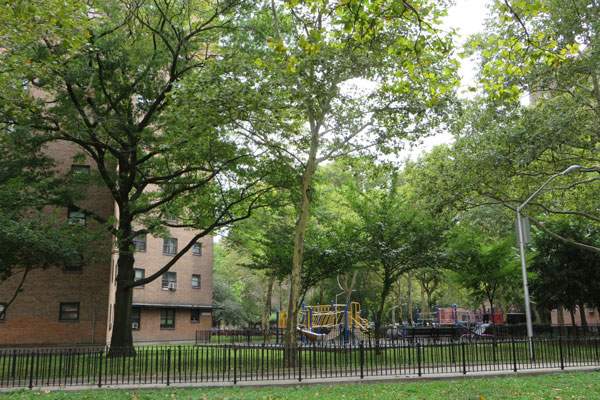 Baruch Houses Post-Hurricane Sandy Capital Improvements
Lower East Side, New York, NY
Clients: New York City Housing Authority and Nelligan White Architects
Denisha Williams, Principal and ISA Certified Arborist,
Being Here Landscape Architecture & Environmental Design, 2013
During the unprecedented storm surges and flooding of Hurricane Sandy, Baruch Houses, along with many other public housing complexes in New York City, suffered damage to grounds and structures from salt water inundation and salt spray. Baruch Houses is the largest NYCHA housing complex in Manhattan, with over 27 acres and 17 buildings. With FEMA funding, Being Here was commissioned by the clients to conduct an arboricultural and landscape architectural assessment of the site conditions six months after the storm, and specified the remedial plantings and other landscape elements in coordination with the architectural team.
Principal Denisha Williams performed the inventory of existing trees, shrubs, and other vegetation for survival and general condition assessment in spring 2013. Under very tight time constraints, Being Here quantified tree removals and specified salt tolerant replacement trees for those lost in the storm or in the immediately following months due to salt damage.
Working closely with Nelligan White Architects, Being Here helped prepare the construction documents for the public bid process. While reviewing drawings and specifications, Being Here also prepared new spec language reflecting current best management practices for new plantings and restoration of damaged lawn areas.